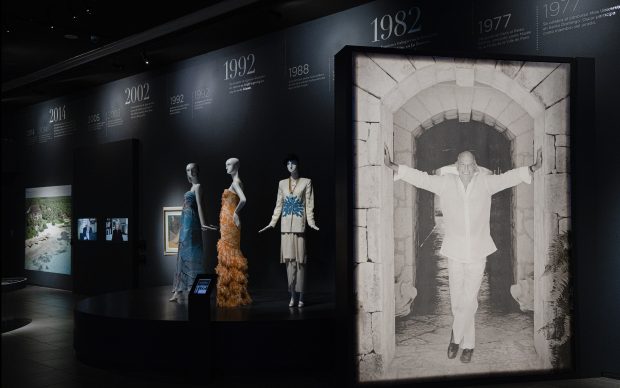 José Rafael Sosa
joserafael.sosa@gmail.com
Desde la apertura de Centro León, en Santiago, la tarde del domingo 5 de octubre de 2003, tras el primer picazo en 1999 , hasta los  transcurridos 17 años, la institución cultural privada  más importante del Cibao, ha sido  marco de numerosas exposiciones  temporales trascendentes, algunas de notable incidencia nacional e  internacional, pero con Ser Oscar de la Renta, se han quebrado todos los parámetros por ser la de mayor proporción: 620 metros cuadrados que se incrementan con espacios hacia el patio interior y el entorno del edificio.
Cuantitativamente hablando, ¿Tiene algún valor el que sea la muestra que requirió cinco años de trabajo en  investigación, coordinaciones, entrevistas, procesos de autorización y obtención de piezas y montaje,  sus 50 vestidos originales de Hillary Rodham Clinton, Oprah Winfrey, Sarah Jessica Parker y Taylor Swift (todos expuestos en vitrinas ovaladas de gran proporción, 60 portadas de revistas, libros,  numerosos videos con entrevistas a familiares, personalidades del arte y la cultura vinculadas a Oscar, 24 cámaras y accesorios de Colección Eduardo León Jimenes de Etnografía y cuatro obras de arte de colecciones propias y cedidas en préstamo de colecciones privadas e instituciones nacionales e internacionales  y que , de conjunto, proyectan una obra y vida trascendentes a nivel global?
Pero no es suficiente la cantidad de nada: estos datos y esto números, no otorgan trascendencia alguna, si el concepto que exponen no representara por primera vez, la mirada más  múltiple sobre Oscar de la Renta, con perspectivas que trascienden los titulares de las revistas, el renombre de las figuras que vistió y su  obra filantrópica, la vinculación familiar y la actitud ante la alegría vital, tal y como nunca antes se había proyectado  en sus líneas de vida que superan la fama, el renombre, el jet set y la fortuna.
Da la impresión de que esta vez, los auspiciadores, Fundación Eduardo León Jimenes, Centro León y Grupo Puntacana,  pusieron en movimiento, sin prisa alguna, pero en base a un cronograma acordado,  todos los esfuerzos, mecanismos y recursos: definición de tema, investigación, recopilación de materiales y elementos, procesos de autorización, sistematización y perfil general del evento, rodaje de un documental mediometraje, promoción y apertura,  para  presentar la visión más completa y de valores múltiples  a quienes visiten la muestra, presentando cinco aspectos, dimensiones  o estaciones de la vida del artista, fallecido el 20 de octubre de 2014, por el más prevenible y silencioso de los canceres: el de próstata.
Esas estaciones son: El Oscar es celebrado (el conocido, el famoso); el hombre inspirador: Oscar Renta Fiallo es Oscar de la Renta; inspiración; el Oscar es transnacional (que absorbe y se integra a las sociedades de Europa y Estados Unidos, manteniendo su frescura caribeña) y la herencia social que deja (Esencias de un legado).
Para llegar al punto de apertura de la muestra, hubo que requerir apoyo, asesoría o fondos documentales de The Metropolitan Museum of Art. The MET, Museum of Art SCAD, Ken State University Museum. KSUM, George W. Bush Presidential Library and Museum, Museo Bellapart, Michael Donovan, Nancye Green, Martin Corullon y Molly Sorkin  y los  patrocinios de Grupo Puntacana, Cervecería Nacional Dominicana, Citi Private Bank, Banco Popular Dominicano, Editora Listín Diario, Visa, Aeropuerto Internacional del Cibao, Synergies Corporation, Fundación Propagás y Excel.
Documental
El documental  Ser Oscar de la Renta, el mediomatraje con que se inicia la visita a la exposición, es una pieza audiovisual que se había estado reclamando (con la misma pasión con la que se ha solicitado una película de ficción) sobre la vida y obra de Oscar de la Renta.
Realizado con base a criterios modernos del cine documental, basado en entrevistas, fotos y tomas en movimiento, el documental Ser Oscar de la Renta, replantea vivida la existencia del artista y su alegría desbordante.
El trabajo, realizado en Centro León, es una pieza que no desperdicia un solo segundo, un solo fotograma (si se puede hablar de ese concepto frente a un proyecto de base digital), con una magnifica fotografía, una adecuada edición a ritmo del concepto docente que pretende llevar, el trabajo debe ser profusamente difundido en escuelas colegios y centro sociales, una vez que termine su temporada en la muestra del Centro León.